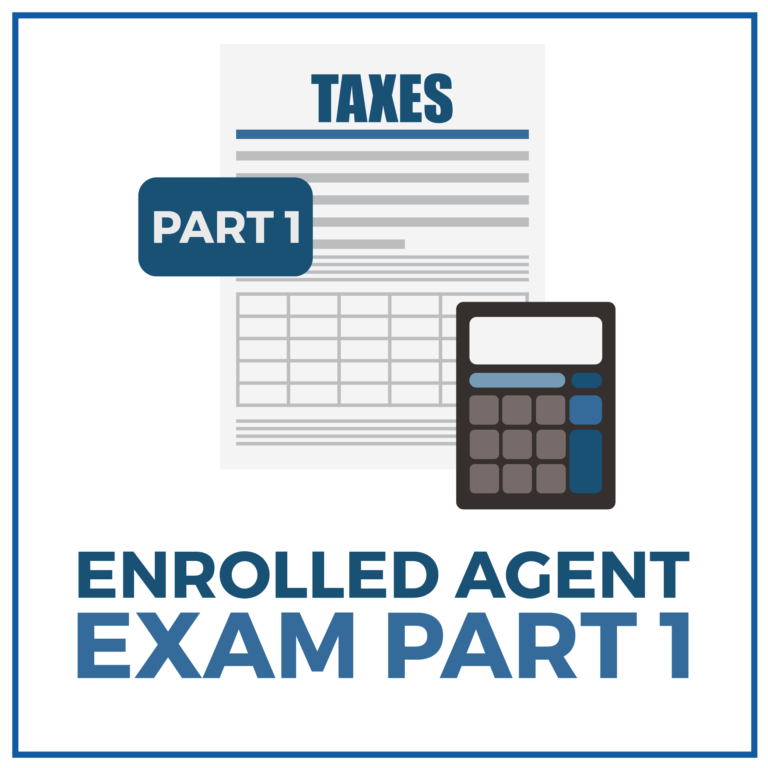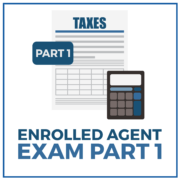 Part 1 of the enrolled agent exam, also known as the IRS Special Enrollment Exam (SEE), covers tax topics related to individuals. The exam contains 100 questions, including 85 questions that are scored and 15 questions that are experimental and therefore not scored. The exam consists of 5 separate sections and candidates have 3.5 hours to complete it.
The EA exam is a multiple choice exam with four possible answers for each question. All questions are weighted equally. The five sections covered on the first exam (Part 1) are as follows:
Section 1: Preliminary Work and Taxpayer Data
Section 2: Income and Assets
Section 3: Deductions and Credits
Section 4: Taxation and Advice
Section 5: Specialized Returns for Individuals – Estate Tax and Gift Tax
The EA exam is offered every month of the year except March and April (the busiest tax season). Each part of the exam costs $109 and must be scheduled in advance through Prometric, which has more than 8,000 test center locations in the US and throughout the world. Click here to see a list of Prometric locations and tests offered (not all tests are offered at all test centers).
Candidates will need a Preparer tax identification number (PTIN) in order to schedule an exam. To apply for a PTIN, you can go to the IRS website and click on the "Renew or Sign-up now" button on the left.
A new exam is introduced each May, based on tax law from the previous year. It is graded on a scale that ranges from 40 to 130. To pass the exam, you must receive a score of 105 or higher.
If you fail the exam (a score of 104 or below) you will be notified that you did not pass as soon as you finish the test. You will only find out your exact score if you fail the exam; individual scores are not released for students who pass the exam. Each part of the exam may be taken up to 4 times in any testing year.
The following video by one of the leading EA Exam Review companies reviewed on this site offers an example of an effective strategy to help you pass the exam:

The Best Strategy To Pass The Enrolled Agent Special Enrollment Exam (SEE) The First Time
For a comparison of various Enrolled Agent prep course options, please check out our EA course comparison chart.
Bryce Welker is a dynamic speaker, expert blogger, and founder of over 20 test prep websites. He shares his knowledge on Forbes, Inc.com, and Entreprenuer.com, empowering readers to boost their careers. With his help, countless students and professionals have passed certification exams and achieved their dreams. Whether you're seeking career advancement or educational success, Bryce Welker is the ultimate guide to help you get there.