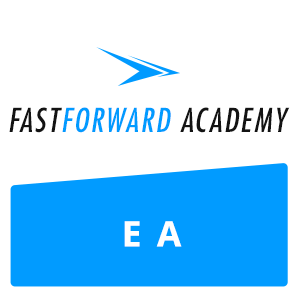 Course Rating: ★★★★★
Fast Forward Academy is an educational provider that creates study material for professional certifications. With particular emphasis on accounting, their Enrolled Agent prep courses are designed around the purpose of helping students accomplish and learn more in less time. The software is a major focus for this educational provider and their robust online toolkit is the backbone of their Learn Fast and Pass motto.
By questioning the status quo of the industry, the company has developed several features in an attempt to set themselves apart from their competition. But is this just flashy gimmicks, or does Fast Forward Academy truly offer an effective EA prep course? Read our full review to find out!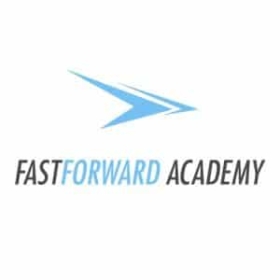 Save $70 on Fast Forward Academy EA Smart Bundle + Bootcamp
uses today
Last Used: 1 days ago
How do you rate Fast Forward Academy EA Review?
Overview of Fast Forward Academy EA Review
At its core, Fast Forward Academy's prep course for aspiring Enrolled Agents offers the stock features found in just about every other educational resource: video lectures and practice questions. They also offer the ability to generate an unlimited amount of simulated exams through their advanced learning tools.
Speaking of advanced learning tools, this prep course relies heavily on these additional digital features as a core selling point for their program. In addition to full mobile compatibility, Fast Forward Academy provides a user-friendly interface and a large community that can provide support from fellow students. All in all, this EA course combines some time-tested materials with more innovative online features.
Here's a small course snapshot of Fast Forward Academy EA Review's contents:
10+ hours of video lectures
3,500+ practice questions
Textbook in physical or digital format
Digital flashcard creator
Split view UI
Robust progress metrics
Community forum
What's Included in Fast Forward Academy EA Review
Textbook and Video Lectures
Divided into three different subsections, the educational material that makes up Fast Forward Academy's EA program contains both text and video resources. These correlate well with each other, with the video lectures touching on important concepts that are elaborated upon in the text.
Though it may sound bog-standard, these features manage to define themselves from those of FFA's competitors. Here's how:
Starting with the video lectures, these aren't just ordinary video files. Although their content is sparse, with a static shot of an instructor discussing particular subjects, they're all supplemented by extra text on the side. These segments appear in a slideshow style and help to illustrate certain talking points and concepts more clearly.
When these lectures and slides aren't enough, the included textbook offers more valuable information. This is a fully interactive eBook that presents complex information in easily understood sections, perfect for students who need to study in short bursts. Specific sections can be highlighted in four different colours, and pages can be bookmarked to return to later.

Practice Questions and Simulated Exams
The Fast Forward Academy EA review course includes more than 3,500 multiple-choice questions. Additionally, students have the option to use these questions to create unlimited practice tests that are timed and weighted just like the actual EA exam.
These practice tests are customizable by using a number of different filters. One particularly helpful filter allows for the creation of an exam comprising only of questions that were answered incorrectly in previous attempts. This is one of the most effective ways that Fast Forward Academy makes studying more efficient by only focusing on the weak points.

Performance Data and Project Metrics
Performance indicators are displayed on the dashboard page so that students can monitor how well they understand specific sections of the material. These metrics are based on the results of practice exams that were taken and refer to Personal Study Data, Personal Exam Data, and Community Exam Data, among other parameters.
The average score from the community for each section is also calculated and easily accessed so that students can assess how well they are doing compared to others. While this is a solid feature, it can also be discouraging and distracting for self-motivated studies.
Speaking of adaptive learning technology, another recently added feature that adopts this educational style is their digital flashcards. Although they don't have as robust of technology behind their design (they're just flashcards, after all!), there's a high amount of customizability that comes with them. Initially, these cards are organized in premade decks; however, students are free to mix and match cards to form new decks tailored toward the areas where they need the most study. A new addition is the ability to purchase physical flashcards, 500 in total covering all 3 parts of the exam for only $120, perfect those learners that have a preference for physical interaction with their learning materials.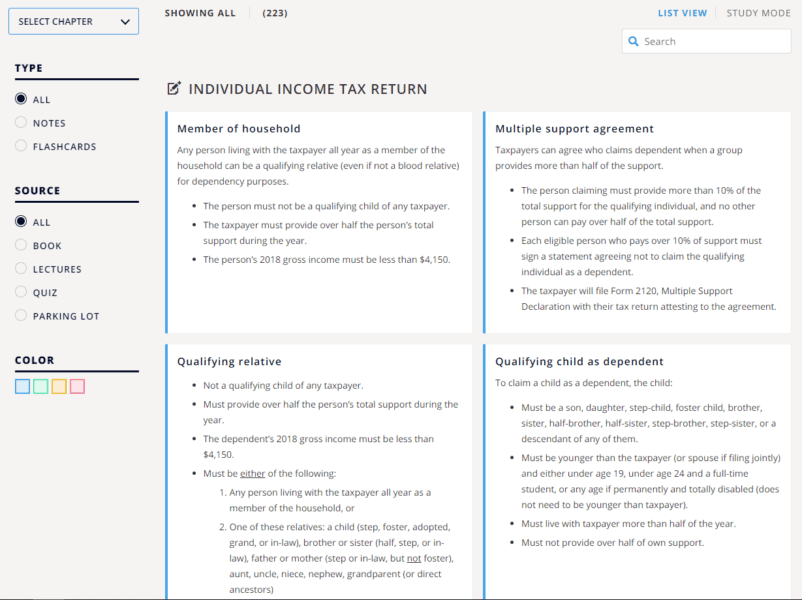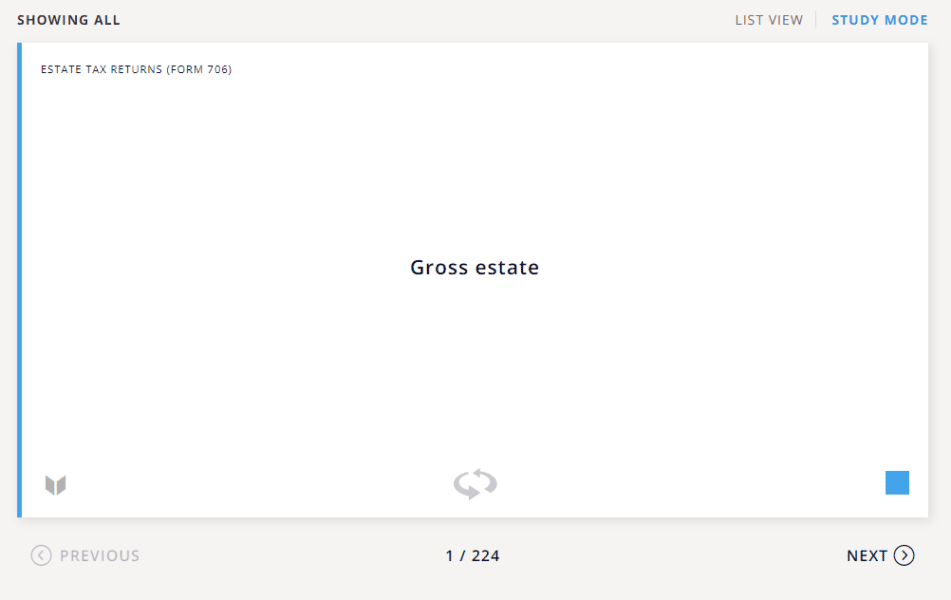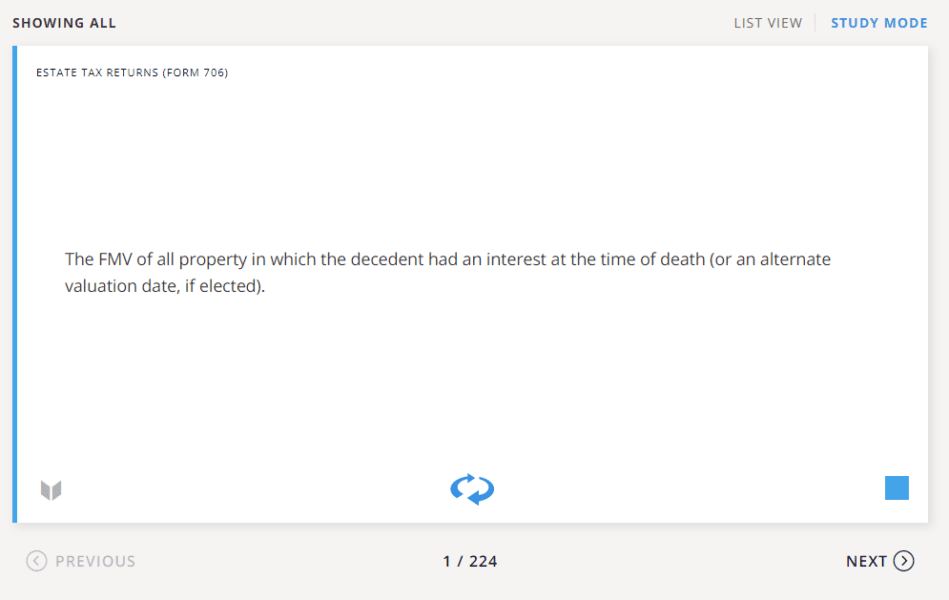 Fast Forward Academy EA Review Packages and Pricing
Much like with their other educational programs, the cost for FFA's Enrolled Agent study course is competitively low. There are multiple packages for prospective students to choose from with variable price ranges.
Keep reading to find out more about these different packages and which one is the best:
The most affordable option sold by Fast Forward Academy is their Enrolled Agent Study Guide. This is a physical copy of their textbook that costs just a hair less than $200 and comes with free shipping. Although it doesn't contain the impressive digital toolkit FFA is known for, this is still a valuable study resource sold at a reasonable price.
The next most affordable package is their EA Online Course, which is also the best choice for the majority of students. This $449 package contains the same material that's in the Study Guide package, only it's in digital form instead of physical. This package also contains all of Fast Forward Academy's advanced learning tools that help to save time.
The most expensive package offered by Fast Forward Academy is their EA Smart Bundle, which contains both the Study Guide and the Online Course content. For students interested in having both physical and digital study tools, this is a decent value; however, the extra cost for an identical copy of their textbook may be redundant to most students.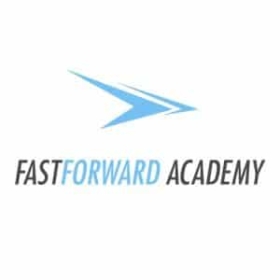 Save $70 on Fast Forward Academy EA Smart Bundle + Bootcamp
uses today
Last Used: 1 days ago
Frequently Asked Questions
Still not sure if this is the EA course for you? Check out these answers to some of the most frequently asked questions!
Does FFA offer a mobile app for their prep course?
Although Fast Forward Academy's learning platform can be accessed from most mobile devices, including iPads, iPhones, and most Android phones, there is no dedicated app to make studying on your phone or tablet more streamlined and convenient.
Does FFA have a refund policy?
Fast Forward Academy offers a policy where students can receive a full refund within 30 days of their purchase if they aren't satisfied.
Does FFA offer any financial aid?
At the time that this review was written, Fast Forward Academy doesn't offer any sort of financial aid program. However, they do offer a payment plan for their EA Smart Bundle program that is subject to credit approval.
How can I contact FFA if I need support?
Fast Forward Academy offers a contact form that can be sent as an email or used to schedule a phone conversation.
Ideal User
As with most online review courses, self-motivated students who take the initiative to read and study the material and actually do practice questions and practice tests will get the most out of this course. Although there are no live instructors to assist you along the way, the course analytics and features like being able to highlight textbook material and filtering practice questions can partially fill that need.
Ultimately, the quality study materials, up-to-date technology, course analytics, performance indicators, user-friendly and intuitive design, and affordable pricing make this a solid and well-rounded course.
---
Fast Forward Academy EA Breakdown
| | |
| --- | --- |
| Fast Forward Academy EA Review | Strengths |
| 1. | Versatile Textbooks and Study Guide |
| 2. | Cheap Materials |
| 3. | Performance Data and Feedback |
| 4. | Practice Exams |
Best Fast Forward Academy Coupon Codes & Discounts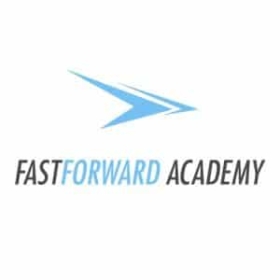 Save $70 on Fast Forward Academy EA Smart Bundle + Bootcamp
uses today
Last Used: 1 days ago
Fast Forward Academy

Website: Link
Physical Location: Orlando, FL
Year Founded: 2010
Exams Covered: CPA, EA
Continuing Education: Yes
BBB Grade: None
Trustpilot Rating: 3.5
Social Media: Facebook, Instagram, Twitter
Contact Page: Link
Bryce Welker is a dynamic speaker, expert blogger, and founder of over 20 test prep websites. He shares his knowledge on Forbes, Inc.com, and Entreprenuer.com, empowering readers to boost their careers. With his help, countless students and professionals have passed certification exams and achieved their dreams. Whether you're seeking career advancement or educational success, Bryce Welker is the ultimate guide to help you get there.